Note: Cross posted from [wp angelfury] Battered Mothers Rights - A Human Rights Issue.

Permalink


 http://abclocal.go.com/kgo/story?section=news/local/east_bay&id=6972375
Breaking News
Wednesday, August 19, 2009
Two-month-old kidnapped in Alameda County
Wednesday, August 19, 2009 | 8:17 AM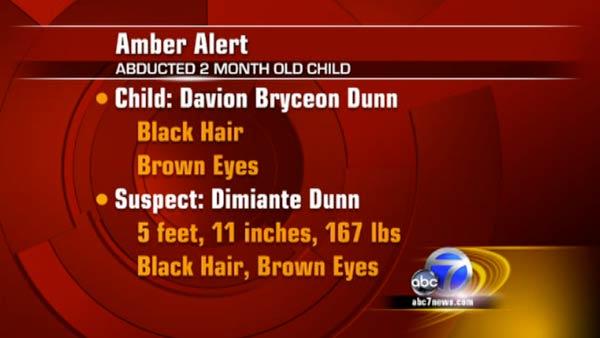 An AMBER Alert has been issued in Alameda County for a two-month-old boy.
ALAMEDA COUNTY, CA (KGO) -- Authorities are searching for a two-month-old child who Pleasanton police say was taken by his father.
  The child is Davion Bryceon Dunn; he has black hair and brown eyes. His father is identified as Dimiante Dunn. He's African American, 5'11" tall, weighing 167 pounds, with black hair and brown eyes
Dunn is in a 1988 Oldsmobile with 22-inch rims. There are two other adults in the vehicle. The vehicle was last seen going southbound on Hopyard Road, near the intersection of interstates 580 and 680. Police say Dunn ripped the child from the car seat he was in.
The incident occurred a little after 5 am Wednesday morning when the mom, baby and a friend were stopped at the intersection of Holland and Payne in Pleasanton. The father of the child was following them; he jumped out and blocked the car from going anywhere. At the same time, his brother came around to the car and assaulted the mom's friend and then snatched the baby.
The father of the baby then assaulted the mother of the baby. The two suspects then jumped in the Oldsmobile with the baby and took off.
Technorati Tags:
NEWS
,
AMBER
,
Alert
,
father
,
Alameda
,
August
,
Authorities
,
Pleasanton
,
Davion
,
Bryceon
,
Dunn
,
hair
,
Dimiante
,
African
,
American
,
Oldsmobile
,
vehicle
,
Hopyard
,
Road
,
intersection
,
Police
,
incident
,
friend
,
Holland
,
Payne
,
month
,
black
Note:
Cross posted from
[wp angelfury] Battered Mothers Rights - A Human Rights Issue
.
Permalink