Note: Cross posted from [wp angelfury] A Human Rights Issue-Custodial Justice.

Permalink


http://www.thelizlibrary.org/outrage/
ILLINOIS LEICHTENBERG-CONNOLLY CASE, McLean County, Illinois. March 31, 2009: "Jack and Duncan Connolly's mother, Amy Leichtenberg, blames Judge James Souk for allowing her ex-husband to have unsupervised visitation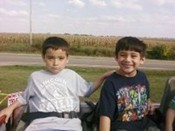 with her boys and for her sons' deaths. Now, she and her friends are taking action. 'She knew this was his intentions from the beginning because it was never about the boys it was to hurt her and she told the judge that, she told him and he didn't listen... It is his fault these boys are gone, it is definitely Judge Souk's fault,' Tuley said. 'He single-handedly handed down an order for Michael to have visitations with those boys unsupervised and because of it they're dead.' ..."http://centralillinoisproud.com/common/printerfriendly.php?cid=51522
            More: http://www.chicagotribune.com/news/local/chi-missing-boys-dead-31-mar31,0,3316104.story?page=1
"Amy Leichtenberg worried this day would come, and she begged the judicial system to prevent it. In court documents dating back to 2005, she detailed her estranged husband's threats against her family and fought unsuccessfully to keep him from having unsupervised visits with their two sons..."
            And yet more: http://www.week.com/news/local/42231047.html
 David Lynch, the local prosecutor is quoted as saying, apologia: "I doubt very much that the judge failed in this case" and "A court cannot stop a visitation unless it finds the visitation would be dangerous to the child's mental, moral or physical health" and "A judge is going to say look at what happened to those two kids. Should I be overly restrictive to a very good parent because they might be that one in 10-thousand or one in 100,000." Somebody please ask Mr. Lynch how the hell he could possibly describe a man with a history of being this much of an abusive asshole toward his wife as a "very good parent".
This is the crux of the problem. These men are most assuredly NOT "very good parents" and it's time the courts stopped automatically granting men the benefit of the doubt while doubting the credibility and motives of the women who know them best and who also happen to be the people who care the most about the children.
            Oh yes... a psych most assuredly did opine in this case, in the usual way, that Connolly was not a threat to himself or the children. Useless. The same guys who claim women emotionally abuse kids by "alienating" them from abusive men -- and then have little problem removing children from the custody of their mothers -- speciously fret and hand-wring over paternal rights and strained make-believe arguments that the children will suffer some kind of harm if they don't get lots of time with fathers -- and oh, it's all the women's fault because she's not letting him see the children. (It was something else she must have done that provoked his prior abusive behavior against the mother when that excuse wouldn't have worked)...
"According to the records, a Bloomington psychiatrist found in April 2008 that Connolly was depressed and unable to work because of 'his inability to see his children under normal conditions.' ...a month later, the psychiatrist said in an evaluation submitted to McLean County Judge James Souk that Connolly did not seem suicidal or homicidal. Souk awarded Connolly unsupervised visits." http://www.examiner.com/a-1936148~Court_papers__Ill__dad_violated_visitation_rules.html
            Difficult? It's not that difficult. Listen to the women. Stop granting depressed, obsessive, and/or control-freak abusive men visitation or "timeshare" rights. Listen to the mothers. Listen to the mothers. Listen to the mothers. Stop assuming that the default positions in custody cases are that women are unstable vindictive crackpots, and that men are being unfairly badmouthed. Father's attorney Todd Roseberry is, of course, surprised.
            Good for McHenry County Judge Suzanne C. Mangiamele who took the claims seriously enough that while the divorce case was pending before her, Connolly received only supervised visitation. But why was he getting any visitation at all? The man repeatedly had threatened to kill the children's mother, as well as others. Leichtenberg's attorney, Elizabeth Vonau, said "Everybody knew he was capable of this. There were repeated threats he would harm her, repeated threats he would get back at her and harm the children or take them from her." http://www.dailyherald.com/story/print/?id=282973
            http://cbs2chicago.com/local/michael.connolly.jack.2.972750.html
: "Connolly never hurt Leichtenberg or their sons but scared her because he called often, sometimes threatening suicide and other times trying to intimidate her or persuade her to come back to him..." He "never hurt her"? What? Of course he did! He threatened her life and abused her for years through the courts. That should have been enough. These mothers are not vindictive crackpots, and it's not mothers in the news day after day after day who prove they are the lunatics by hurting other people. These mothers are the persons in the world who love the children best and who know the father best. The mothers. Not the psychs, your honors. Really. Women don't keep children from helpful, supportive men who aren't threatening to take custody, harm them physically, harm the children, or harm the mothers' abilities to properly care and provide for their children.
"Connolly benefited from a system designed to overlook past indiscretions in favor of giving children a chance to maintain relationships with both parents... he bamboozled people. He was cagey and manipulative."http://www.chicagotribune.com/news/local/chi-missing-kids-killed-01-apr01,0,2218136.story
            Giving "the children" a chance? Now they are dead. Let's stop with the euphemisms and pretexts. These are bad laws. Amy Leichtenberg and her children were failed by bad laws that serve primarily to give men rights. Mothers don't seem to be able to "work the system" this way, because they aren't believed, they frequently are the upset attached parent, they often have far less funds to litigate, and it's just a father-lovin' mother-denigrating world. "Leichtenberg spent the last four years documenting what she considered to be dangerous behavior."
            Listen to the mothers. Listen to the mothers. Listen to the mothers. Leichtenberg pleaded -- pleaded -- with the judge. What the f--- did he think she was so worked up about? Did he discount her as some kind of "woman scorned"? She was the one who left Connolly. (Women usually are the ones who leave.) What kind of inherently misogynistic attitude leads people to hold these biased perceptions that they don't even realize they hold. Women beg these judges... out of lunacy? vindictiveness? Hysteria? Weakness of mind? Some kind of pathetic "enmeshment" with the kids? Because they can't handle life? To get those juicy big child custody awards that so often go unpaid anyway? Just another "high conflict custody case"?
            No. That's projecting onto women the motives and thought processes of these abusive men. That's what these MEN believe they would do were tables turned. They believe this way because they are not mothers. And judges often rule as they do because for one reason or another, they just don't like the litigating mother as a person as much as they like the man -- as if this is relevant to what's in kids' interests. It's a mother-hating, woman-disrespecting world. Doesn't help when she's got reason to be stressed, harassed, made crazy and angry. (The court whores of course also will bias toward whoever is the more compliant person who likes them best, i.e. is most willing to pay them, but in the rare case that is the mother, that only tends to correct the pervasive pro-male bias.)
            Your honor, if some litigant who had come before you behaved toward you in the manner this man behaved, threatened your life and so forth, would you be inclined to hire him -- EVER -- to care for YOUR children? Would you be saying "Well, even though he threatened to slit my throat six months ago, and violated restraining orders umpteen times, now he has a job and a rented apartment, so that must mean he's okay; he can have my kids for the weekend." Do the effin' rules of reality change when it's other people? Or is it just that we're too damn enrenched in the delusional ideas of sperm rights and women's wrongs in this world.
            See, at this website WILL HE KILL?
            and BUSTING THE FATHERHOOD MYTH
            and MYTHS AND FACTS ABOUT FATHERHOOD
            and REEVALUATING THE EVALUATORS
OUTRAGE!
            Every week in the news, every week, sometimes every day, men in custody cases and relationship separation cases rape, batter, and kill women and children. It's below the fold on some inside page if at all, if it even makes the news at all. It happens again and again and again and again. (But when the relatively rare mother kills, it's headline news for months.) And don't forget the ubiquitous tittering by the neighbors, duly quoted for "balance" all about what a nice guy, and how he was tormented and so forth. Usually it's written up as if it's an inexplicable snapping, and too often without a whiff of mention of the nearly always-present reality of a history of his being a control freak or depressive and that she left him or threatened to leave him, or to take some of "his" property, or cause him loss generally by breaking up "his family". (That last item, take note, is all about his surroundings and accutrements and possessions. It should not to be understood as "take his children" which is a specious use of faux projection by the propagandists, a pretext for the loss he's actually flipping over.) And in the majority of the rest of those so-called one-in-ten-thousand cases, the ones in which he doesn't kill, he's still battering and abusing her through the court system, for years, over his custody "rights". It's got to stop.
            People are calling for Judge Souk to resign. They should be calling for the ouster of the psychs as well, who mislead courts with snake oil and give them covers to hide behind. Let's pinpoint exactly what the catalyst for this horrible, horrible failure of the court system was. A psych speculation as to risk, an opinion that had no business being uttered in court because psychsjust don't have these prediction skills.
More opinions:
When the Justice System Fails You
Another Family Wiped Out By Dad
Technorati Tags:
Listen
,
Leichtenberg
,
Judge
,
father
,
ILLINOIS
,
CASE
,
McLean
,
March
,
Jack
,
Duncan
,
James
,
Souk
,
husband
,
friends
,
action
,
Tuley
,
Michael
,
news
,
system
,
documents
,
threats
,
David
,
Lynch
,
health
,
kids
,
Should
,
parent
,
Somebody
,
hell
,
history
,
wife
,
crux
,
courts
,
children
,
threat
,
custody
,
rights
,
arguments
,
behavior
,
records
,
Bloomington
,
psychiatrist
,
April
,
evaluation
,
examiner
,
Court_papers__Ill__dad_violated_visitation_rules
,
Difficult
,
Stop
,
cases
,
attorney
,
Todd
,
Roseberry
,
McHenry
,
Suzanne
,
Mangiamele
,
Elizabeth
,
Vonau
,
Everybody
,
times
,
life
,
persons
,
world
,
Women
,
relationships
,
woman
,
attitude
,
judges
,
lunacy
,
Hysteria
,
Some
,
Just
,
person
,
interests
,
Doesn
,
bias
,
male
,
litigant
,
manner
,
throat
,
orders
,
apartment
,
rules
,
ideas
,
KILL
,
MYTH
,
MYTHS
,
FACTS
,
ABOUT
,
EVALUATORS
,
OUTRAGE
,
relationship
,
separation
,
whiff
,
item
,
surroundings
,
possessions
,
projection
,
pretext
,
People
,
ouster
,
catalyst
,
failure
,
speculation
,
opinion
,
prediction
,
Justice
,
Another
,
deaths
,
intentions
,
fathers
,
indiscretions
,
pretexts
,
perceptions
,
skills
,
opinions
,
didn
,
sons
,
visitation
,
chicagotribune
,
week
,
html
,
thousand
,
parents
,
psych
,
freak
,
crackpots
,
psychs
,
aren
,
ones
,
months
Note:
Cross posted from
[wp angelfury] A Human Rights Issue-Custodial Justice
.
Permalink